"It's the most wonderful time of the year!"
It's hard not to hum Christmas songs now that December is here! With Christmas being just around the corner, it's the perfect time to start prepping those holiday cards you usually rush into signing just the day before Christmas Eve.
Christmas Card Designs
This colorful collection of Christmas card designs can help you switch into a festive mood and inspire you to create your own special cards and invitations. Here are 10 of the most unique and beautiful card designs that are sure to bring joy to whomever you decide to send them.
#1: Merry Light Christmas Invitation Design
Check it out: Paperless Post
The start of the Christmas season signals the hanging of bright lights around the house and in the neighborhood. If you're hosting a Christmas party online, this digital Christmas invitation design would liven up the holiday spirits for sure. Aside from the colorful lights, this digital card also illustrates a greeting and snowflakes in gold foil.
#2: Red Line Vintage Christmas Card
Check it out: Minted
Created by: Eric Beckett
Red and white are two of the main colors in the Christmas color palette. Eric Beckett's beautiful line illustrations are beautifully entangled with the text. The main headline is framed by a circular shape with arched text. The ornamented corners of the main frame give an elegant finish to the design.
#3: Christmas Card Design With a Photo Background
Check it out: A Pair Of Pears
Created by: Jake & Jamie Bartlett
If you're looking for a way to incorporate your family photo into a Christmas invitation, Jake and Jamie Bartlett's Christmas card design has a great solution for you. The design of main Christmas card features a hand-illustrated text surrounded by swirls and doodles that give off a playful look. The illustrations are placed on a darker background that features a mesmerizing close-up of a pine tree. The family photo is placed on the back of the two-fold card.
#4: Christmas Rose Holiday Card
Check it out: Paper Raven Co.
Created by: Erin McManness
Erin's dazzling Christmas card creatively combines rose buds, mistletoe, and pine tree branches into a unique design. The hard-drawn bright red flowers give the design a touch of European beauty, making this card both intriguing and undeniably cute.
#5: Black Christmas Card With Gold Foil
Check it out: Paper Culture
This minimalist gold foil Christmas card has a dramatic look and an unusual shape. The thin lines and elegant sans serif type make it a great choice for formal events. Although this card design is targeted at businesses, it can be a great pick for personal occasions as well.
#6: Let It Snow Christmas Card
Check it out: Illustration.
Created by: Margaret Bergart
If you're looking for a Christmas card design with a playful illustration, this Let It Snow Christmas card by Margaret Bergart might be a great option. It's a hand-painted card that shows the adorable face of a snowman. It's a cute Christmas card for kids who love building snowmen during the winter season.
#7: Have Yourself A Merry Little Christmas Card
Check it out: Lily and Val
Created by: Valerie McKeehan
This Christmas card from Lily and Val illustrates a greeting in beautiful hand-lettering format. It's a card that artists would certainly appreciate, especially with the growing popularity of lettering these days. There's nothing quite like a Christmas greeting written in a personalized, art form.
#8: Nutcracker 2020 Christmas Card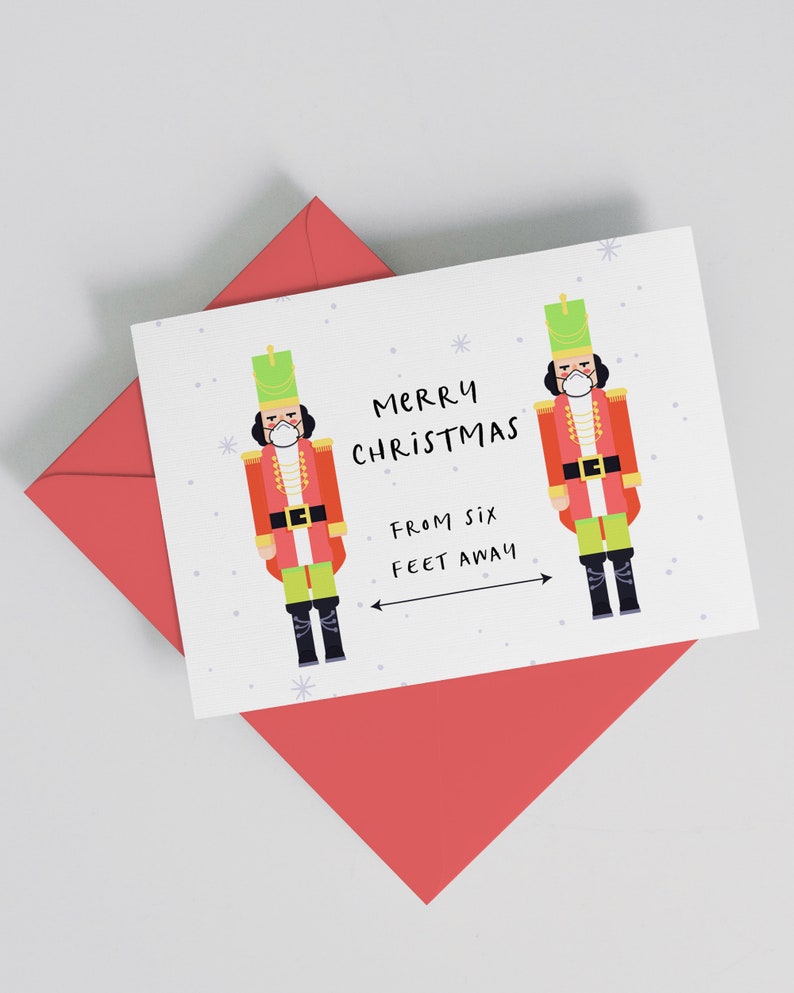 Check it out: Etsy
Created by: Haven Print Co.
Want something more apt for this Christmas season specifically? This Christmas card shows two nutcrackers maintaining social distancing during the holidays. If that isn't the perfect illustration of the holidays this year, I don't know what is!
#9: Seasonal Moniker Holiday Card Design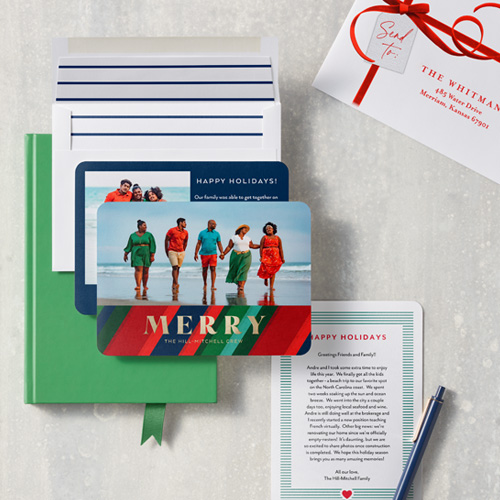 Check it out: Shutterfly
If you're looking for something a bit more personalized, this is a great option for you. You can add your friends' and family's photos in the cards to add that personal touch. Even their names can be included in the design to make them feel extra special this holiday season. Gold-foiled greetings are illustrated in the cards, which make the design look classy.
#10: Illustrated Christmas Card
Check it out: Neiko Art
Designer: Neiko Ng
Finally, we're going to finish this showcase with a classic Christmas card design. The colorful illustrations and sweet birds that are joyfully chirping on Christmas Eve create a fuzzy and cheerful feeling.