Deal Jumbo is offering, for a limited time, a Best Sellers Mega Bundle of 1,589 individual retro/vintage design elements, templates, effects and custom fonts at 92% off the regular price of $460. This is a collection of high quality design resources from the CreativeMarket.com bestsellers and other premium designers. Deal Jumbo is a hot new resource for all things design, regularly serving up discounts and freebies on assets for graphic designers, photographers and artists. This deal is their biggest to date.
This bundle is a great addition to any freelancer's or design agency's toolkit, perfect for adding some weight to your available work resources.
Freebies Are Up For Grabs Too
To get a taste of what they're offering in this bundle, Deal Jumbo has generously offered a FREE sample download. Check it out here.
What's in this Sweet Deal?
The Mega Bundle includes:
10 Custom Font Families (TTF, OTF formats & some also in web font formats)
120 Logo/Badge/Insignia Templates (Adobe Illustrator AI, EPS files or also PSD)
1331 Vector Ornaments/Elements (Adobe Illustrator AI, EPS files or also PSD)
128 Effects and Presentation Templates (Adobe Photoshop PSD Templates or actions, styles)
Click here to purchase this huge deal.
Here's a complete overview of all the elements you'll receive in this bundle.
1. Logo/Badge/Sign Templates (94 logo/badge/insignia templates + 120 vector elements from 6 authors)
1A. Vintage Bundle – 5 Vintage Logo Kits by Hustle Supply Co.
30 Vector Logos made in Adobe Illustrator with Editable Text. All Logos were created with extreme attention to detail.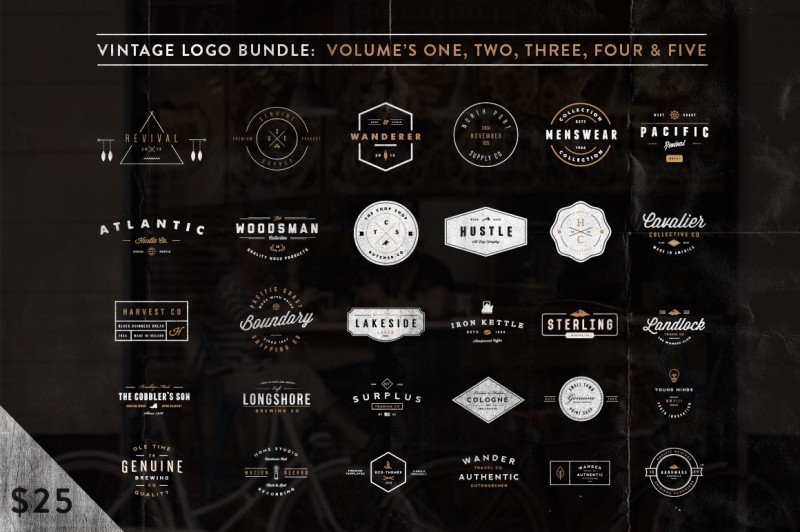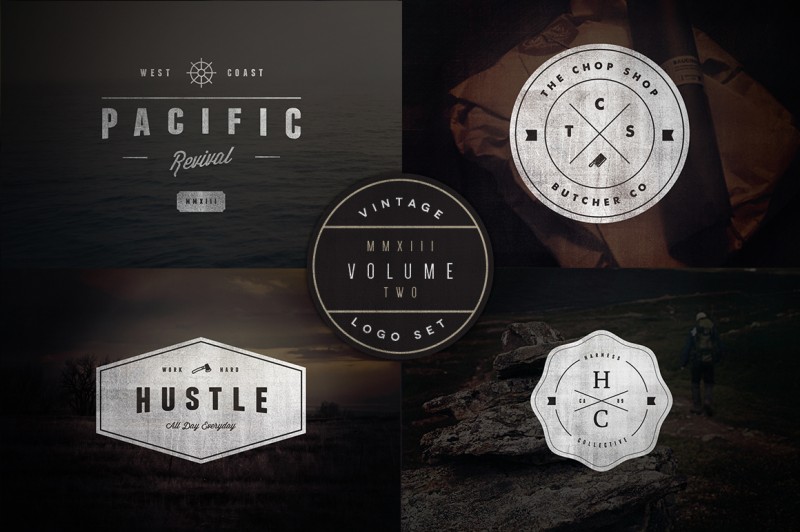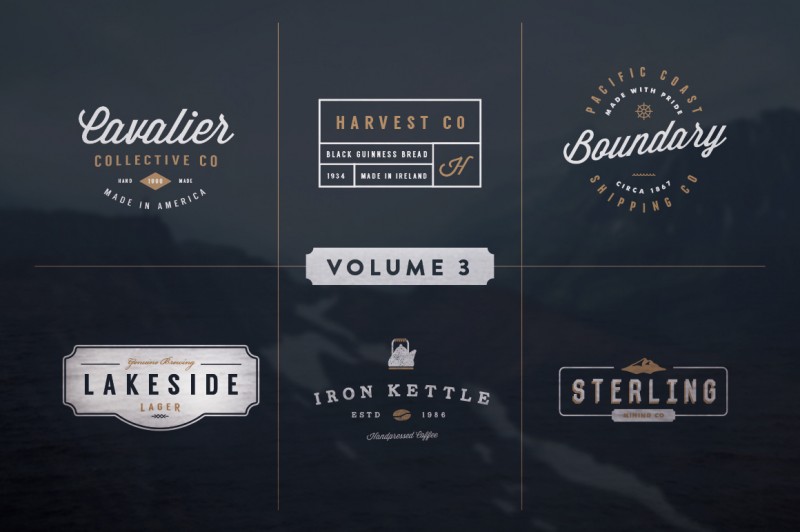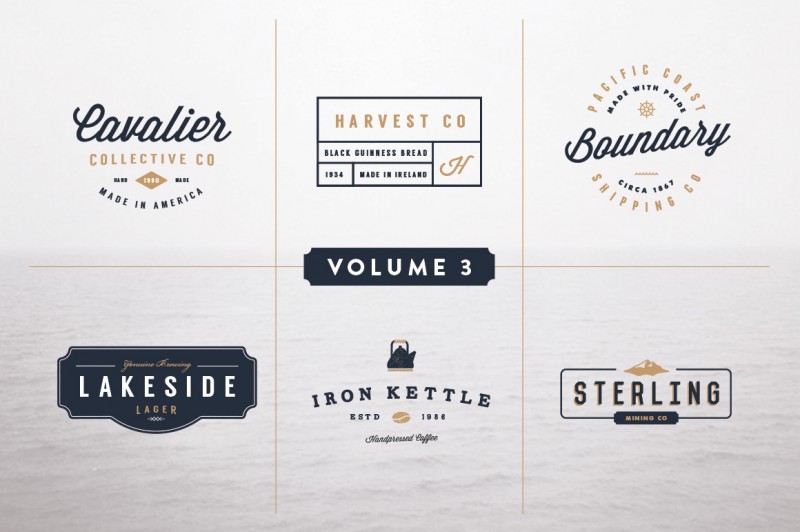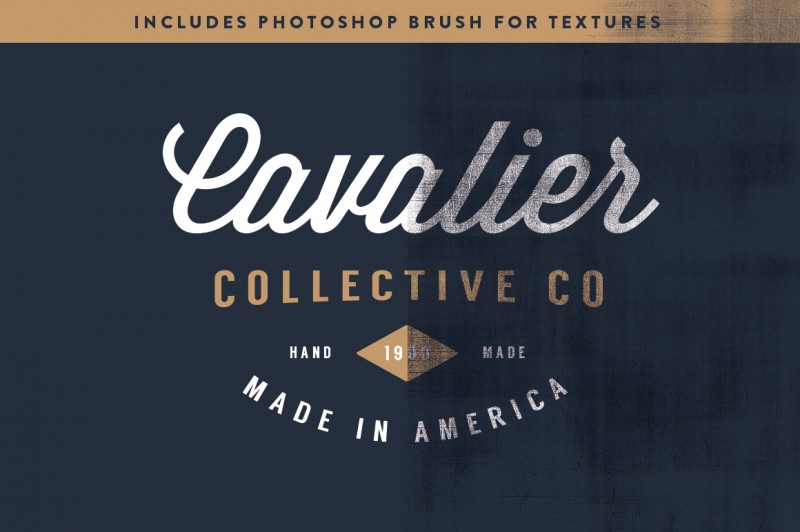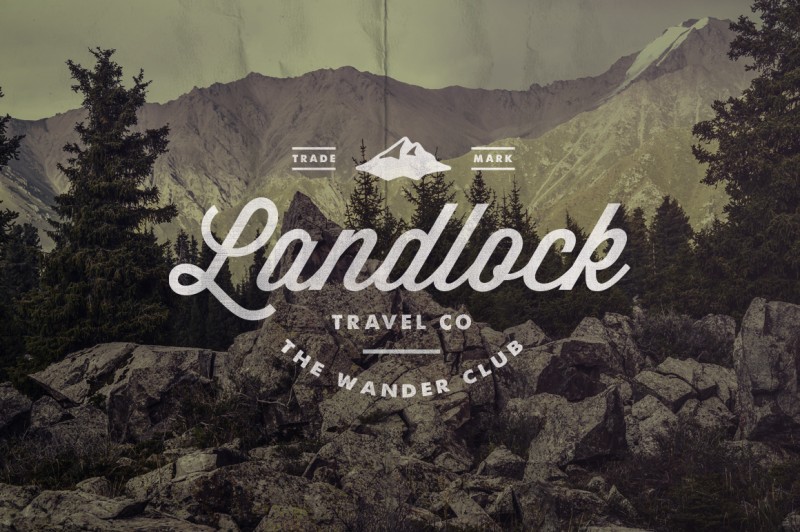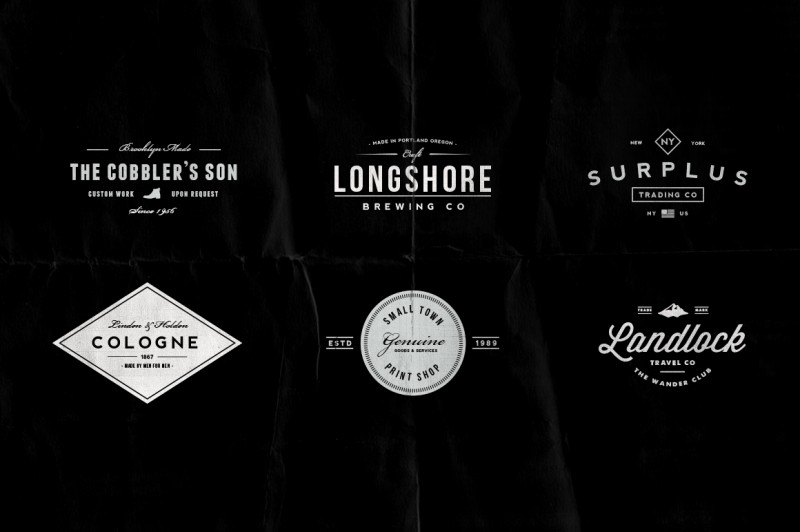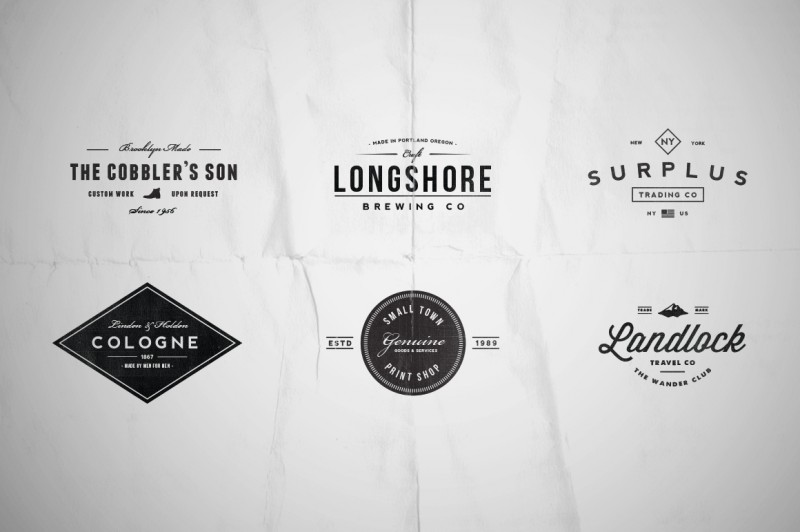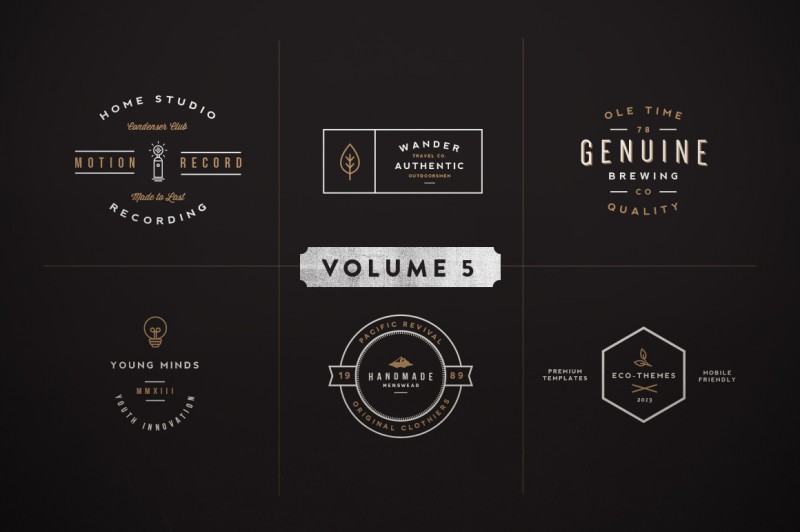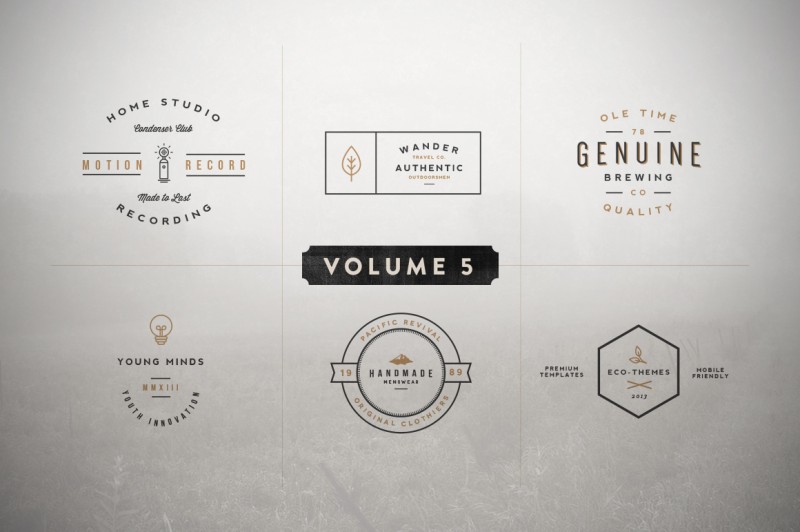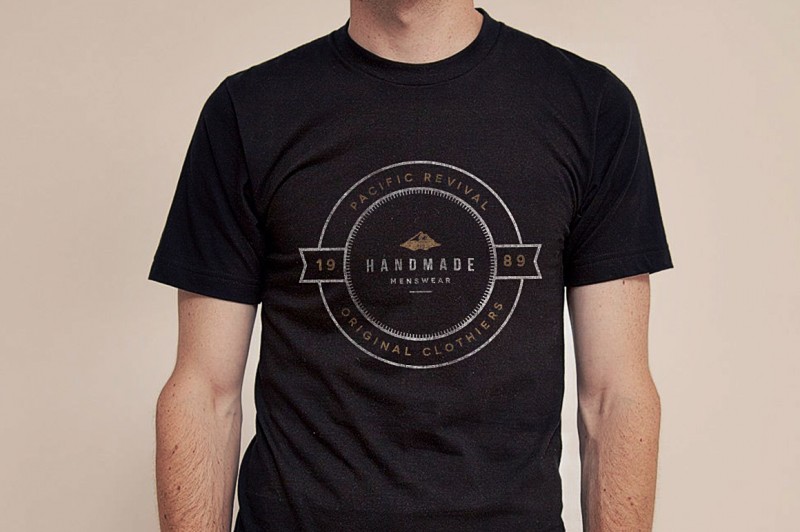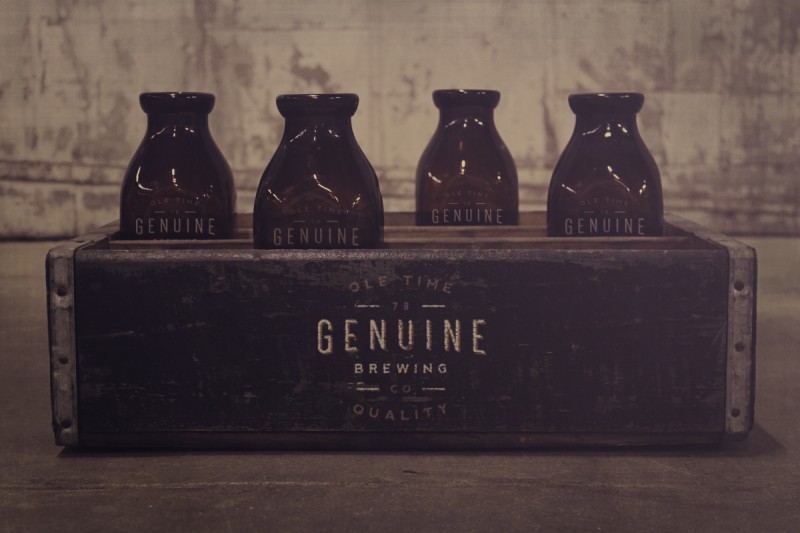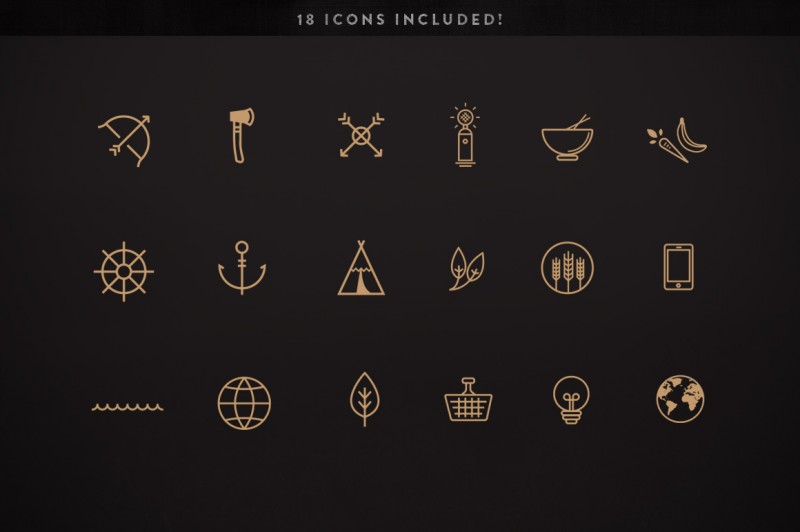 1B. Vintage Circular Badges & Seals by ThunderPixels
This set of vector pieces ( 16 badges pre-designed fully editables,  35 Circular elements and 28 icons ) is ideal for create logos, product labels, badges, stamps, seals or t-shirt designs. with a vintage style and high quiality design.
1C. Vintage Logo Bundle and Extras by Nicky Laatz
This pack includes 9 carefully crafted vintage style Logo Templates for you to use and modify as your own. Bonus material includes various vintage images to customised your logos with if you wish, vector ray bursts and texturising photoshop brushes to add some wear and tear :)
1D. 6 Ornamental Vector Labels by Twicolabs Design
Six high quality and detailed ornamental vector labels / templates.
1E. Vintage Logos and Badges Vol 1 by Agga Swist'blnk
7 Vintage Hand Drawn Style Logos And Badges.
1F. 10 Vintage Badge Templates by MIIM Design
10 retro/vintage badge templates in Adobe Photoshop with 10 pattern alternatives!
1G. 16 Simple Vintage Badge Templates by MIIM Design
16 simple retro/vintage badge templates for Adobe Photoshop or Elements.
2. Custom Fonts (10 font families also with 138 ornaments from 5 authors)
2A. American Handmade Typeface by ThunderPixels
This is a handmade typography and inspired by the graphic design craft. Only the uppercase letters incorporated. In TTF and OTF formats.
2B. Thirsty Rough Complete Family by Yellow Design Studio
Thirsty Script Rough from Yellow Design Studio is the warm and weathered version of Thirsty Script with texture that captures the authentic qualities of letterpress printing. It's highly customizable with four alternate versions of every weight ranging from very light to heavy distress. Because it's remarkably detailed, it looks great even at large sizes. For extra customization and fun, it includes a set of matching shadow layers and texture pieces.
2C. Melany Lane Complete Family by Yellow Design Studio
Melany Lane from Yellow Design Studio is a flourishy script based on traditional letterforms, but with the added quirks and warmth of hand-drawn type. The base character set has traditionally connected letters and an expressive charm. Contextual alternates add flair with unconnected letters and additional contour options. Mix in swash and stylistic alternates for extra funkiness and fun.
2D. Holden typeface by AlterDeco Typefoundry
Holden typeface is a vintage font, useful to create a vintage apparel design, logotype, and labeling. The uppercase is in shadowed style. Available in otf and ttf.
2E. Shoutest typeface by AlterDeco Typefoundry
Shoutest typeface is a modern retro style typeface, available in 2 styles regular and shadowed, both in ttf and otf format.
2F. Midnight Show typeface by AlterDeco Typefoundry
"Midnight Show" typeface, it's an old fashioned typeface,, inspired by classic and vintage sign typography designs. It's perfect for creating a logotype, or a t shirt/apparel design.
2G. Carlingford by Twicolabs Design
Carlingford, a font with classic feel that inspired from old advertising and signage letters. Crafted with high attention to the smooth lines and details.
2H. Dollar Bill 2 by Twicolabs Design
Dollar Bill 2 is a new and enhanced version of our previous Dollar Bill font.
2I. Brnc Font Brother by Agga Swist'blnk
Brnc is Font Brother includes 2 Font Family (Blnc Family and Brch Family + 2 new weights) with 22+ Catchwords and 20+ Ornaments in vector format.
2J. Blnc Family by Agga Swist'blnk
Blnc inspired by Old Western lettering with some Modern touch. Great for almost all of your designing needs including headline, labels, logo, etc. If you like Vintage Hand drawn style, Blnc come with vintage style and add some dust to feel more hand drawn. Family includes 5 fonts.
3. Vector Ornaments & Elements (1073 vector shapes + 26 logo/badge templates + 8 textures from 2 authors)
3A. 115 Hand-Sketched Vector Elements by Nicky Laatz
This pack includes 115 Rustic Hand sketched Vector elements,doodles,banners, frames, laurels and graphic elements for use in your logos, branding and design projects of any description. It includes 12 free Pre-designed logo templates for you to use and modify as your own. The included logos also demonstrate how you can use the various design elements included in this bumper pack :)
3B. Very Vintage Vector Kit + 14 Logos by Nicky Laatz
Introducing the new VERY VINTAGE Designers Kit – various vintage elements ,inspired by genuine old scanned vintage newspaper adverts – that you can use to build your own unique vintage artwork and branding. This packINCLUDES A BONUS 14 Pre-Designed Logo Templates for you to use and modify as your own. The included logos also demonstrate how you can use the various design elements included in this bumper pack :)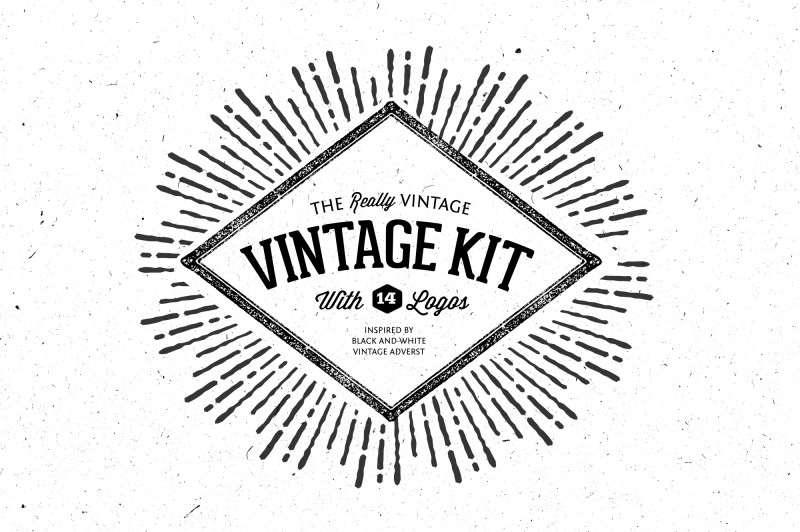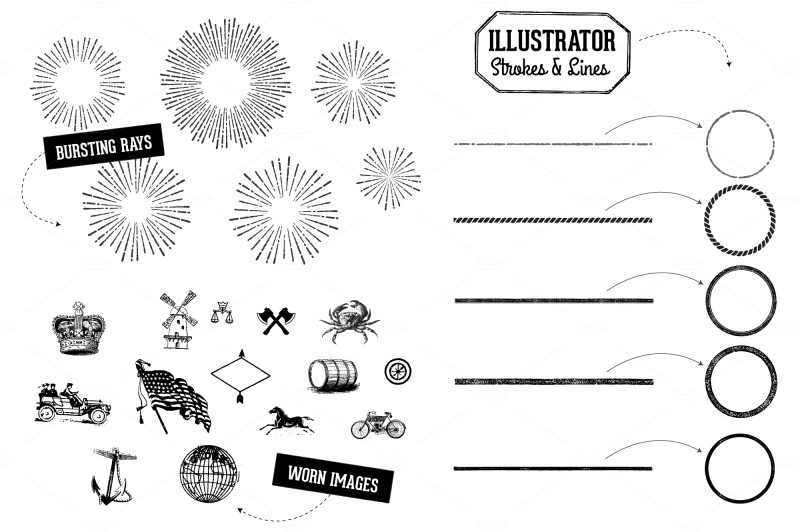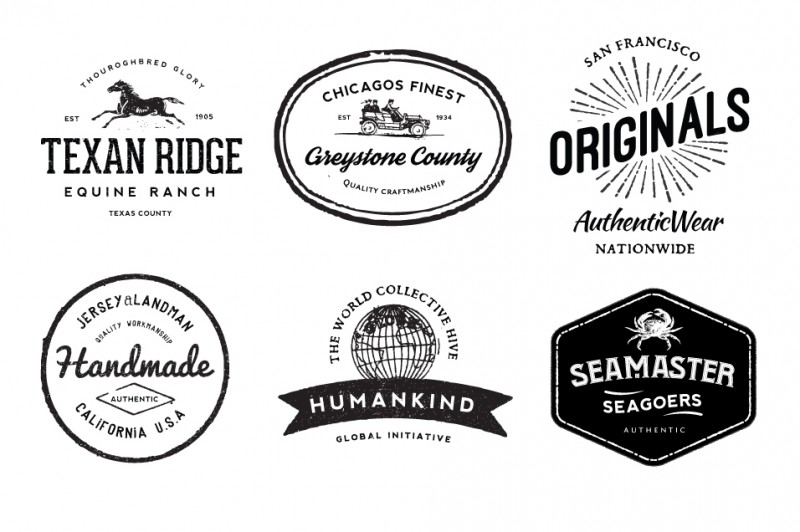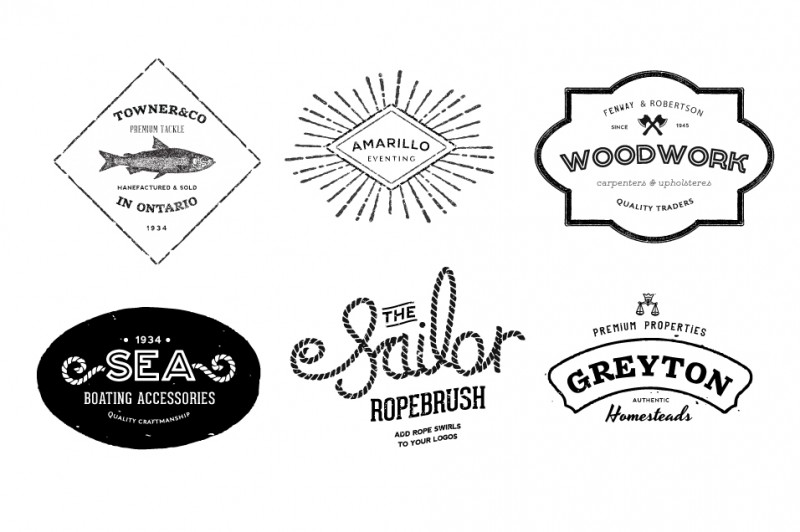 3C. 890 Handwritten Shapes by Cruzine Design
890 handwritten decorative vector shapes in Adobe Illustrator and Adobe Photoshop (resizable shapes). Shapes like ribbons, dividers, ornaments and corners.
4. Effects and Presentation Templates (120 templates and effects from 3 authors)
4A. 11 Around the house Apple Mock-ups by ZedProMedia
11 Around the house Apple device Mock-ups.Super clean and sharp images with replaceable Smart Object screens. Perfect for advertising a Web Theme or App! Real easy to edit. Just drop in your screen shot, color correct to your liking and you're good to go! Devices: iPhone 5s, Macbook Pro Retina, iPad Retina, Macbook Air.
4B. Old Movie Titles – Smart Kit Vol. 1 by ThunderPixels
This kit of Layer Styles is inspired by the original titles of American Famous Films and Film Noir of 1920-1950. This pack contains 5 fully editable PSD files, layered and high resolution, with textures and realistic effects, in some cases contains the name of the font and the link to download it if you want to get the same results as the preview. Include textures.
4C. Anvil Ink Press Kit by ZedProMedia
Awesome Photoshop Actions + Brushes Kit to add distress and a weathered look to Text or Logos.
3 actions that are very easy to use with step by instructions. 6 High res grunge texture brushes to create endless possibilities! An easy to understand help video is also included which walks you through the process of using the kit.
4D. 15 Premium Vintage Photo Filters by ZedProMedia
I'm always looking for classy photo filters and have a hard time finding filters that allow you to make tweaks and changes. That is why I created these 15 filters. A lot of time went into perfecting these15 actions. They are full editable if you need to tweak the curves or contrast etc.
4E. 80 Grunge Photoshop Styles by MIIM Design
80 styles and patterns great for vintage or retro designs. Works with any shape or text. In this pack you'll download: photoshop styles *.asl file and photoshop patterns *.pat file and also photoshop *.psd with all layered styles for web and print (300dpi). Enjoy ;)
Pricing:
Normally, these amazing items would cost you more then $460, but for a limited time only, you can get this unique collection for $39! 
Deal Terms:
Delivered as an instant download, after completing your purchase.

Only free fonts used in this templates. Links to the sites where the fonts can be downloaded from for free are included.

Templates can be used for both personal and commercial puroposes, for yourself or on behalf of a client, on their own, or as part of new work.

Cannot be sublicensed, resold, shared, transferred, or otherwise redistributed on its own.